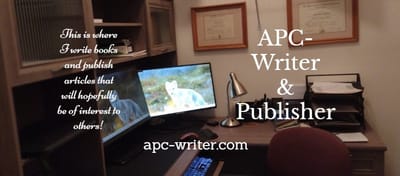 Bibliography for Audrey Phillips Cox

Audrey started writing books in the year 2008. Having a passionate love of books since childhood, she developed a desire to also write books. Although she wanted to start writing earlier in life, she chose to attend college to earn a Bachelor of Science in Nursing. She felt this degree would give her a stable way to earn a living. Writing is not a stable profession. This was a good decision because her husband died at 66 years of age, leaving her to support herself. Thankfully, her children were grown and supporting themselves.
After working many years in intensive care units of hospitals as a registered nurse, she was forced to retire early from nursing to care for her debilitated mother who was suffering from dementia. This hindered her from working outside the home.
Needing to earn money, she worked from home for a company that provided articles averaging 500 words for random websites. Since the pay was low, she had to write several articles every day to receive adequate payment for her work. Some of these articles were used by Google to provide information for someone searching for answers. As a writer, she chose writing assignments where she could provide accurate information, mostly medical. This company was very strict, to the point of being picky, but she honed her writing skills.
After many years, her mother died. Her responsibilities decreased dramatically. However, she got married again. Being married, her responsibilities increased once again. Creating a successful marriage requires hard work and is therefore time consuming. Again, writing books took a backseat.
However, after seven years of marriage, her second husband died. Once again, she could return to writing books. Writing books have become a good way to spend her twilight years doing something productive..
Although she has faced the fact that she may never become a bestselling author, she remains hopeful that readers of her books gain some insight how to successfully navigate through life.
Although she has made some bad decisions, she has made more good ones than bad ones. Thanks to her faith in God, she is a happy person writing books. Possessing a vivid imagination and having lived through a lot of good, bad, and ugly experiences in her life, she continues to write books.